Media Watch: How Media Outlets Reacted to Lavista's Evaluation of The Real Estate Market
24.03.2020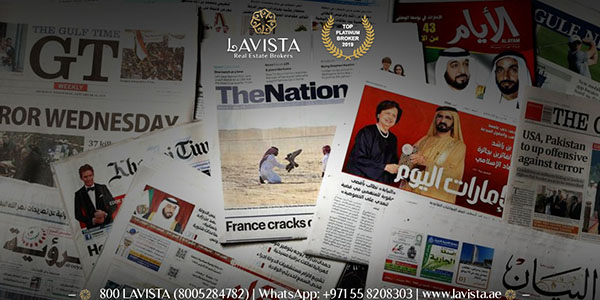 Several media outlets in the UAE, KSA, & Egypt have reacted to Lavista's latest evaluation of the real estate market. This comes following the latest development in the sector related to the approaching Expo 2020, the rising interest from investors and owners in purchasing properties, and the more substantial presence of off-plan registrations.
Nabd App, in a published report, cited Ahmed Hussein, Chairman of Lavista Real Estate Brokerage Firm and emphasized his recommendation toward the upgrade of the role of brokers, as they help draw international investments and guide them toward the best opportunities.
My Dubai News, while echoing the same recommendations and expectations shared by Lavista, pointed to the company's recent position in the real estate market. It also praised the company's over 100 trained team staff, their expertise, and a wide range of services they offer for many clients around the world.
Hashtag Dubai has heeded the advice as well, describing Mr. Hussein as an 'influential part' of the wave working with Emaar. The website then describes him as the main man behind setting Lavista as a Platinum broker for Emaar and a market leader during 2019, with the company expanding into a multi-million dollar company and boasting an impressive portfolio of VIP clients in regional and international markets.
The recent evaluation by Lavista Real Estate Brokerage Firm wasn't solely influential in UAE, but in other regional countries as well, as evident in the media coverage. Saudi website 24/7 News is an example, as their editors agreed with Mr. Hussein's view of 2020 as a year that marks a strong start for the real estate market, supported by the hosting of Expo 2020.
Kuwaiti newspaper Ejaraine didn't only assert these views, but also provided a short biography of the young company, highlighting how Lavista, which was founded in 2016, managed to achieve so much despite being a young player in the market. Ejaraine cited Lavista's over 20 years of rounded experience and excellent service of clients as reasons for this success.
Egyptian new sites and magazines such as Merimedia, Al Wasela, and El Wathiqa, actively covered this release from Lavista, which has robust ties and presence in Egypt, as shown in the attendance of its last real estate events there.
This increasing presence in media is not strange for Lavista, whose Diamond Real Estate Event last year got an extensive media coverage, in UAE and many countries in the region, and was attended by many media personalities. Also, Lavista's Chairman Ahmed Hussein was featured on the special GCC Real Estate Titans 2019 of Arabian Business for his role in making the UAE's realty dreams a reality.
The Sources :
- Twenty Four Seven Newspaper (KSA)
https://www.twentyfoursevennews.com/2020/02/lavista-eyes-a-boom-in-dubais-realty-sector/
- Al khaleej Newspaper
- Nabd News application
https://nabd.com/t/69193059-97b296
- Elwathiqa Newspaper (Egypt)
https://www.elwathiqa.com/441
- lwasela Website (Egypt)
http://www.alwasela.com/535775
- Ejaraine Newspaper (Kwait)
https://www.ejaraine.com/2020/02/22/real-estate-opportunities-flourish-in-2020/
- My Dubai News Website
http://www.mydubainews.com/%d9%81%d8%b1%d8%b5-%d8%b9%d9%82%d8%a7%d8%b1%d9%8a%d8%a9-%d9%87%d8%a7%d9%85%d8%a9-%d9%81%d9%8a-%d8%b9%d8%a7%d9%85-2020/
- Hashtag Dubai Website
http://hashtagdubai.org/index.php/2020/02/18/real-estate-opportunities-flourish-in-2020/
- Dubai Magazine
https://www.dubaimagazine.net/wp/?p=5602
- Merimedia Magazine (Egypt)
https://www.merimedia.net/2020/02/18/%d9%81%d8%b1%d8%b5-%d8%b9%d9%82%d8%a7%d8%b1%d9%8a%d8%a9-%d9%87%d8%a7%d9%85%d8%a9-%d9%81%d9%8a-%d8%b9%d8%a7%d9%85-2020/
- Josour Magazine
https://www.josourmagazine.net/%d9%81%d8%b1%d8%b5-%d8%b9%d9%82%d8%a7%d8%b1%d9%8a%d8%a9-%d9%87%d8%a7%d9%85%d8%a9-%d9%81%d9%8a-%d8%b9%d8%a7%d9%85-2020/%d8%a7%d8%ae%d8%a8%d8%a7%d8%b1-%d8%b9%d8%a7%d9%85%d8%a9/
- Emarat News Magazine
https://emarat-news.ae/2020/02/19/98074/%d9%81%d8%b1%d8%b5-%d8%b9%d9%82%d8%a7%d8%b1%d9%8a%d8%a9-%d9%87%d8%a7%d9%85%d8%a9-%d9%81%d9%8a-%d8%b9%d8%a7%d9%85-2020-%d9%83%d9%85%d8%a7-%d9%8a%d8%aa%d9%88%d9%82%d8%b9%d9%87%d8%a7-%d8%ae%d8%a8%d8%b1/
- UAE News247 Website
https://uaenews247.com/2020/02/17/real-estate-opportunities-flourish-in-2020/
- Faselah Magazine
http://faselah.net/artical/details/25856/%D9%81%D8%B1%D8%B5-%D8%B9%D9%82%D8%A7%D8%B1%D9%8A%D8%A9-%D9%87%D8%A7%D9%85%D8%A9-%D9%81%D9%8A-%D8%B9%D8%A7%D9%85-2020-%D9%8A%D8%AA%D9%88%D9%82%D8%B9-%D8%AE%D8%A8%D8%B1%D8%A7%D8%A1-%D9%84%D8%A7%D9%81%D9%8A%D8%B3%D8%AA%D8%A7-%D8%A7%D8%B2%D8%AF%D9%87%D8%A7%D8%B1%D8%A7-%D9%81%D9%8A-%D8%B3%D9%88%D9%82-%D8%AF%D8%A8%D9%8A
- Dubai Global News Website
https://www.dubaiglobalnews.com/2020/02/22/144606/
- Artisita Magazine
http://magazine.artisita.com/?p=776
- Dubai Hospitality News Website
https://www.dubaihospitalitynews.com/%D9%81%D8%B1%D8%B5-%D8%B9%D9%82%D8%A7%D8%B1%D9%8A%D8%A9-%D9%87%D8%A7%D9%85%D8%A9-%D9%81%D9%8A-%D8%B9%D8%A7%D9%85-2020/
- IBW Media Website
https://ibw-media.com/3342/
- Dubai I Conic Lady Website
https://www.dubaiiconiclady.com/2020/02/22/90654
- Emeknes Website
https://www.emeknes.com/breaking_news/1262616/%D9%84%D8%A7%D9%81%D9%8A%D8%B3%D8%AA%D8%A7-%D9%81%D8%B1%D8%B5-%D8%B9%D9%82%D8%A7%D8%B1%D9%8A%D8%A9-%D9%87%D8%A7%D9%85%D8%A9-%D9%81%D9%8A-%D8%AF%D8%A8%D9%8A-2020
- Albidda Newspaper (Egypt)
https://www.albidda.net/breaking_news/amp/3093376