2019: A Good Year for Lavista
26.12.2019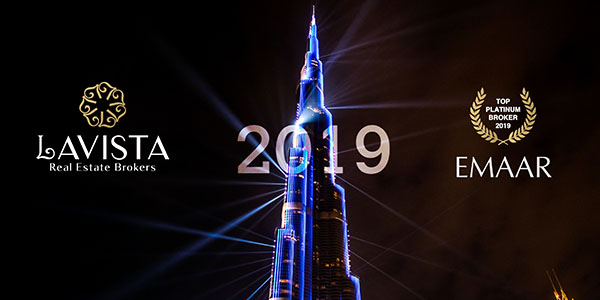 The end of the year is just a perfect time for reflections on what we have done and accomplished so far. We at Lavista had looked back on what 2019 carried for us, and how we think our future should be!
Lavista real estate is relatively a young player in Dubai's real estate market, launched in 2016 with the enormous efforts of its chairman Ahmed Hussein. Since then, the brokerage firm worked to redefine the relationship between brokers and clients, emphasizing on building trust by providing clients with the best guidance in the field.
Fast forward to our present day, we can say that 2019 was a good year indeed for Lavista! It's been recognized as a platinum broker for EMAAR, and ranked as the third top brokerage firm selling Emaar's properties, during Emaar's 2019 half-yearly awards ceremony, further proving the success of Lavista's fast-paced journey in the sector.
Regionally, this year also saw an increased presence for Lavista in the Saudi market, providing luxurious real estate to Saudi investors. The relationship with the Saudi market started a while back, but 2019 witnessed its transformation on another level. This success would not have happened without understanding the best opportunities that these investors needed and working hard to create a long-standing relationship with them.
This regional success reflected necessarily on Lavista's international plans this year, as it is eyeing opportunities in many key markets, such as China, Russia and the United States with over 100 well-trained employees, speaking 7 languages and ready for this expansion!
All these efforts led Arabian Business magazine to feature Lavista's Chairman, Mr. Ahmed Hussein, as one of its GCC Real Estate Titans for 2019! Citing his qualities like leadership, knowledge and experience in the market as main reasons for this inclusion, in addition to his ability to build trust-based relationships with Dubai's top developers and customers. The magazine and other media channels in UAE also recognized Lavista's overall performance and its rapid growth and achievements during this year!
Back to where we started, the end of the year is not only a perfect time for reflections but to make future plans as well! Our solid performance in 2019 has always encouraged us to declare 2020 the year for Lavista to become one of the top real estate brokerage firms in UAE. Setting an ambitious target like this one is due to our belief in our team experience, which exceeds 20 years in the market, and in Emaar's ability to continue its excellence with projects and opportunities. And with Dubai Expo 2020 approaching us, there is a huge reason for excitement, with all the opportunities and economic growth it will bring to the United Arab Emirates and its real estate sector!