8 Reasons to Invest in the Palace Residences
07.02.2019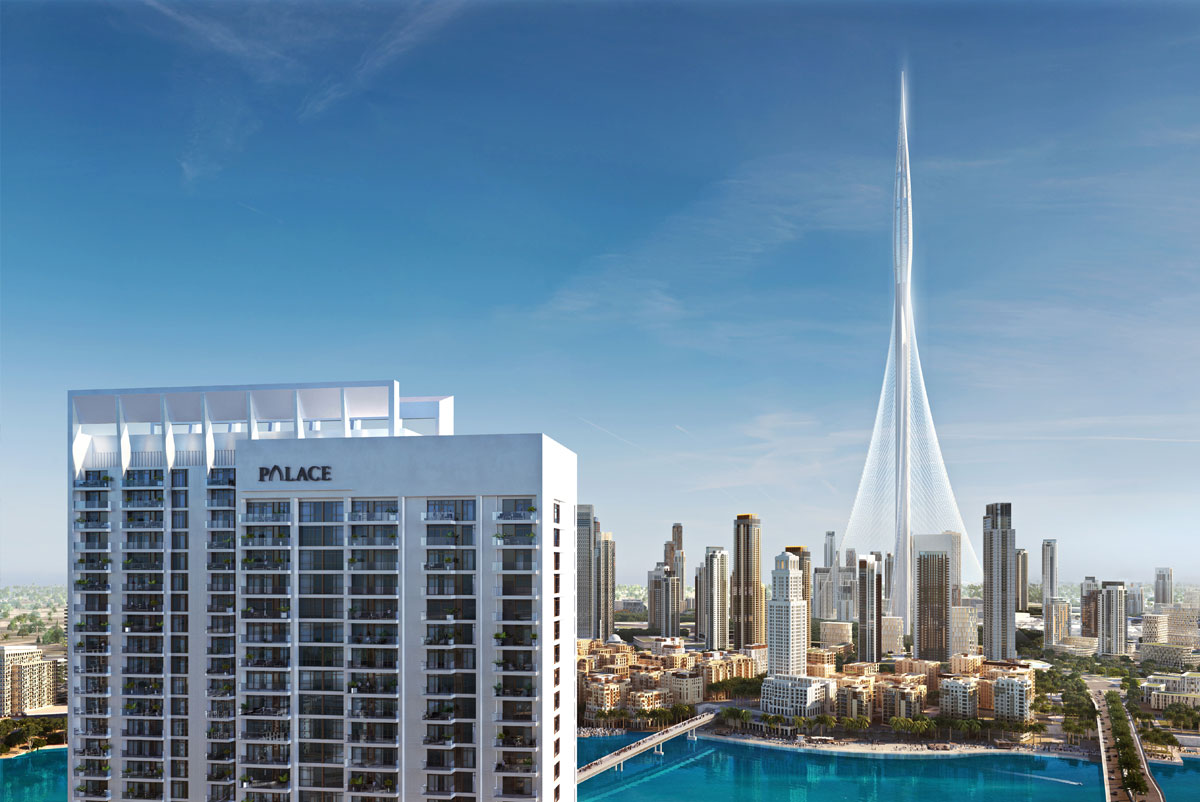 Dubai saw the beginning of 2019 with the launch of the highly anticipated Palace Residences, a new residence project from the Address Hotel & Resorts and Emaar Properties. The architecture marvel is located in Dubai Creek Harbour, an area that many call "Tomorrow's World". The Palace Residences might have encompassed features that are considered a leap in today's real estate market, locally and globally. As you read on, you will discover why the Palace Residences is one of the hottest spots in Dubai's real estate and why you should choose Lavista to own an apartment (or more) in it!

1- Dubai Creek Harbour is the new downtown
It is no secret that the Dubai Creek Harbour carries the same potential of the Downtown area surrounding Burj Khalifa. The area will embrace the world's tallest building and will feature all the attractions you might dream of. This integrated city in the heart of Dubai carries the same inspiring vision that dazzled the world with the Dubai Downtown and its burj back in 2013.

2- Another legacy from the Address Hotel + Resorts
The Palace Residences comes to life as a joint collaboration from both the Address Hotel + Resorts and Emaar. What this will mean for you is that you will get the same hotel-quality of luxury in terms of space, views and the attention to the simplest details in amenities and architecture.

3- Remarkable facilities and amenities
Being located in a 'World of Tomorrow', Palace Residences will indeed live up to this reputation, with is unique architectural design that includes two 44-storey towers and the wide variety of services and amenities that are available for the residents. Apartments come with 1, 2,3 or 4 bedrooms, and are serviced on demand by the Address Hotels + Resorts. Residents will enjoy exclusive privileges like a rooftop infinity pool, barbeque area and a fully-equipped gym, along with concierge and valet parking services. Moreover, residents have direct access to the nearby Address Hotel.

4- Strategic location
The Palace Residences stands next to the new Dubai Creek and is a 5-minute drive from the following attractives: The Dubai Creek Tower, Dubai Square, Ras Al Khor Road, Creek Marina and the wildlife sanctuary. It is also no more than few steps away from Creek Tower Bridge. The city-within-Dubai will be provided for with all the facilities that will empower your day such as malls, schools, restaurants and markets.

5- Dubai Creek Tower
The Palace Residences overlook the Dubai Creek Tower and is surrounded by a magnificent waterfront. Our Lavista experts will do their best to get you the apartment of your choice with the best views possible, including the beautiful famed-for-its-flamingos Ras Al Khor nature reserve.

6- Waterfront
The Palace Residences is located near Creek Marina and Creek Beach. This means that you own a house next to a man-built waterfront that is as beautiful as the one at JBR, but you also be located close to a quiet sandy beach that will remind you of the Jumeirah beach.

7- Ras Al Khor Wildlife Sanctuary
This place is a top tourist attraction and the reason is quite simple. This nature reserve offers something different than the usual energetic style of Dubai. There, the city rhythm slows as 450 species of animals go about their lives uninterrupted in an area of 6.2 square kilometers. As a resident in the Palace Residences, you will be able to witness 270 species of birds and 47 species of plants on a daily basis- not to mention those brightly colored flocks of flamingos.

8- Emaar's support and Lavista's offer
Emaar offers investors or residents property management services for five years, 50% discounts on Dubai Creek Harbour Spa and pool and a 25% discount at the hotel's outlets, including food and beverage.
With Lavista, you will receive additional discounts that will ease up financing your lifetime investment:
- 50% discount on DLD fees
- Free 5-year sale or rent management
- Two years of free maintenance
- Investment return valued as 10% of the property's purchase value for four years
- All the above means that you will save up to AED 80,000 on Emaar Properties

Whether you are planning to reside in such a promising area, or you are an investor looking for the market's hottest properties, the Palace Residences is a place to consider and Lavista will definitely be your golden ticket to Emaar properties.