Burj Crown: A celebration of luxury and leisure life
12.01.2020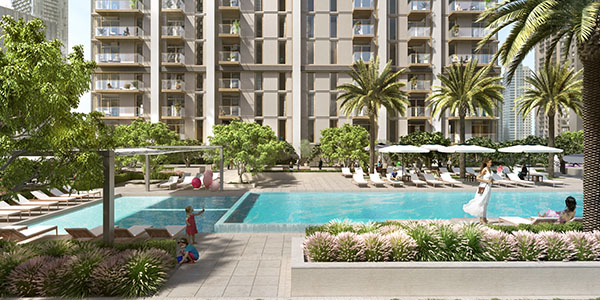 You might have watched the wonderful scenes of the New Year celebrations in Dubai and enjoyed them! However, now that we are moving into 2020, the true welcoming of it has shown up!
Emaar launched its newest project, Burj Crown, in the city and it's something worth your attention.
Here in this article, we will have a look at this marvelous project, and why you should think of it as a very serious New Year resolution!
Developed to impress
Burj Crown is a celebration of leisure and luxurious living experience! Everything about this project says so, starting with a prime location on the magnificent Sheikh Mohammed bin Rashid Boulevard in Downtown Dubai, between Sheikh Zayed road to the west and Al Khail road to the east.
From there, you will be a walk away from every impressive landmark in the city, like Burj Khalifa, The Dubai Mall, The Dubai Fountain, Dubai Opera and Burj Park! Aside from that, this location keeps you close to the vital points of the city, like Dubai International Airport, which will be 10 minutes away!
And if being in the heart of everything wasn't enough, knowing how you will be there will certainly impress you. As a resident of Burj Crown, you will have direct access from the Boulevard, dedicated drop-off area, and taxi drop-off at the main entrance and the project itself is anything but short of an efficient transportation network.
A happy living experience
Burj Crown was envisioned on the concept of happy living, wellness and joy for you and your loved ones. With the interior designing and amenities serving this point, you will be able to enjoy every little moment as a resident of Burj Crown.
The apartments' modern urban design leaves you with plenty of space and simplicity to freely express yourself while being an extension to the green and charming surroundings and the other panoramic views!
The amenities, on the other hand, are not only super luxurious but also so diverse to enrich the lives of everyone in your family. Residents of Burj Crown will enjoy an outdoor kids' play area, a dedicated bbq area, a spacious leisure deck, swimming pools for children & adults, a multi-purpose room and a rooftop with wonderful views on Burj Khalifa.
Investors' top choice
Burj Crown is not expected to be only a perfect fitting for residences who are aiming to enjoy a unique living experience but also provides investors with a golden chance.
As demonstrated, the project offers everything a perfect residential project can have, with the proximity to The Dubai Mall playing a huge factor, as more than 80 million visitors go there every year for a variety of luxury brands, entertainment venues, and world-class dining outlets, not to mention the other attractions as VR Park and the Dubai Aquarium & Underwater Zoo.
Also, investing in Dubai is a wise choice, as the city welcomes The Expo 2020 and Dubai's reputation as one of the most secure cities in the world, and one of the 10 most visited cities in the world while offering competitive real estate prices!
Burj Crown offers 1, 2 & 3 luxurious bedroom apartments. If you are interested in finding a modern and warm home for you and your family or seeking a guaranteed investment in one of the world's leading cities, contact us or click here for more information.