Everything you should know about Creek Palace
17.02.2020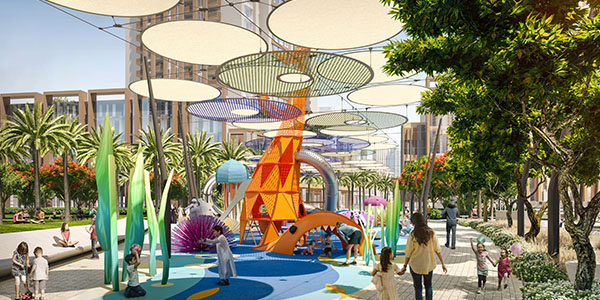 Vacations are short-term luxury-fuelled experiences, aren't they? Well, not necessarily! Emaar's newest project 'Creek Palace' takes the best out of the luxurious hotel experiences and twists it with the everyday details that make your home! Here in this article, we will have a look at this project and what it brings to the table!
The Location You Crave For
Located on the prestigious Creek Island in Dubai, Creek Palace offers the unique island living experience, with many attractions a walk away from you, like Creek Marina, Island Park, Creek Quay, and Harbour Promenade.
The project will be completely connected to the city of Dubai with a modern transport system that consists of a bus network, four metro stations, three bridges connecting to Creek Island and water taxis to Downtown Dubai!
A picturesque experience
In Creek Palace, you'll find every reason to enjoy living and embrace this experience of lasting luxury! You will be surrounded by an array of world-class amenities and 5-star services. Indulge yourself in the spa or the gourmet dining, or the various services Palace hotel can offer like On-demand housekeeping services, on-demand hotel services or the priority discounts at hotel facilities. The promenade itself also boasts a big retail area and a dedicated lift to it.
And since island living doesn't feel complete without a beach experience, you can expect a lot from the 300-metre beach, the restaurants by the water and the breathtaking sunset views. This beach scene goes along very well with the lush and surrounding greenery in the Island Park, where you and your family can enjoy different activities in the skating areas, lawn amphitheatre, dog park, kids' play area, splash pad and fitness plaza.
Being close to Creek Marina, you should brace yourself, because there will be too any goods! Its design will take you back to the city's rich pearling history, while the endless leisure activities will keep every day there worth of living and remembering! You can enjoy yachting or feel inspired at the open art gallery, or unwind at Vida Hotel.
The project's amenities keep it up with these luxury levels and helps you shake off the stress of work and enjoy the tranquility. In this recreational area, you will have multiple choices to relax! Watch the sunrise and the iconic views of Dubai's skylines or feel the comfort in the dedicated yoga room, the infinity-edge pool or the state-of-art gym. And being a family project, you can be sure that your kids are feeling the same in their play area and pool.
Inside, your home will be a true embodiment of elegance, simplicity and comfortable living. The blend of natural elements and modern design will create an atmosphere of uniqueness, while the luxurious interiors will exude a splendid aura of pure beauty and sophistication.
The Right Investment
The Palace brand, and its association with the brand winning Address Hotels + Resorts, won't only assure that you will experience the concept of lavish hotel life, but also encourage you to think of investing in Creek Palace. This project is expected to deliver excellent investment returns due to the surrounding vital attractions and the project's super features.
Creek Palace offers 1, 2, 3-bedroom apartments and 3-bedroom waterfront villas. If you are thinking of an extended luxurious vacation at home or investing in the future, contact us or click here for more information.